Learn more

Learn more

Learn more

Learn more

Introduction
Parameters
Advantages
1.This product uses high energy UV light beem to irradiate and crack malodorous gases, like ammonia, trimethylamine, hydrogen sulfide, dimethyl sulfide hydrogen, methyl mercaptan and dimethyl sulfide, two methyl two sulfur, carbon disulfide and styrene sulfide, H2S, VOC, benzene, toluene, xylene molecules link structures. After high energy UV light irradiation, both organic and inorganic high molecular chain of odorous compounds will degrade into low molecular compounds, such as CO2, H2O etc. 2. Use high energy UV light beam to decompose oxygen molecules in air to produce free oxygen, which is also called reactive oxygen. As free oxygen carrying imbalance positive and negative ions, they need to combine with oxygen molecules to form ozone. As we all konw, ozone has strong oxidizing effect on organic matter. Ozone also has immediate scavenging effect on odorous gases and irritating odor. 3. Malodorous gases input into purification equipment though ventilation equipment. Purification equipment uses high energy UVC light beam and ozone's synergistic decomposition oxidation reaction to decompose malodorous gases into low molecular compounds, carbon dioxide, water, and finally exhaust outdoor through exhaust pipe. 4. Use high energy UV light beam to break molecular chains of bacteria in malodorous gases, destroy nucleic acid (DNA) of bacteria, and then oxidized by ozone to completely achieve the effect of deodorization and bacteria killing.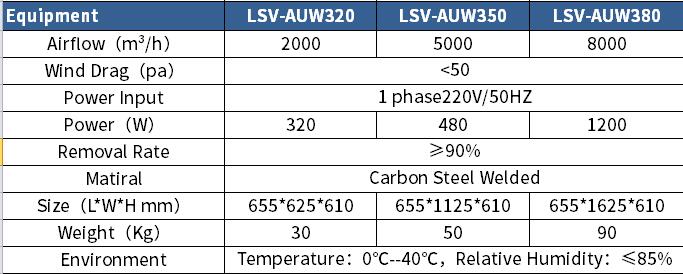 *Material & specification are subject to change without prior notice in accordance with our continuous technical innovations. Featured machines in photos may include additional equipment.
1、Effective Remove of Malodorous Gases The equipment can effectively remove main pollutants like volatile organic compounds (VOC), inorganic compounds, sulfide, ammonia mercaptan and a variety of odor. Its deodorization efficiency can reach up to 99%. No need to add any substance, but only need to set corresponding exhaust duct and exhaust power, making odor gases pass through the equipment for deodorization, decomposition and purification. The equipment can be used for deodorization treatment of different odor gases substances with high concentration and large air amount. The equipment can continuously work 24 hours per day. The operation is stable and reliable. 2、Low Operating Costs The equipment is without any mechanical action, no noise, no need routine maintenance. It only needs regular checks. The equipment is low energy consumption, with very low wind drag<50pa, which can save a lot of exhaust power consumption. 3、No Need of Pretreatment No special pretreatment such as heating, humidifying, etc. is needed for odorous gases treatment. The equipment can work correctly when working environment temperature is between -30℃ to 95℃, humidity between 30% to 98%, and PH value between 2 to 13 . The equipment is small in size and light in weight. It is suitable for special conditions of compact layout and narrow space. The equipment covers an area less than 1m2(<5000m3/h airflow product). 4、Manufactured with Imported High Quality Materials Fire prevention, corrosion resistance, high performance, stable performance, long service life.